Pork Chops and Apple Sauce
There can be few dishes in this world anywhere as delicious and saliva-inducing as pork chops, at least in my experience. And today, I developed a hankering for some. Luckily, I happened to have a few in my freezer, so I was able to prepare them for today's dinner.
The key to tasty chops, in my opinion, is simply to be sure to use enough salt and pepper. Any and all other spices are entirely optional. In this case, I added some basil.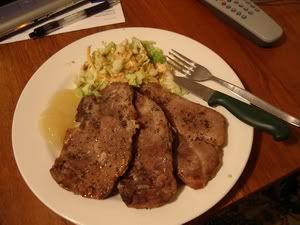 The greeny goo towards the left edge of the plate is apple sauce. Truth be told, I'm not actually all that keen on having apple sauce with pork chops (or even pork roast). Apple sauce on its own is delicious, as are pork chops by themselves. The combination, however, is just weird as far as I'm concerned. But it's traditional in the UK and I had some sauce left over from Christmas, so I took the opportunity to finish it off. Next time, it's tomato ketchup!